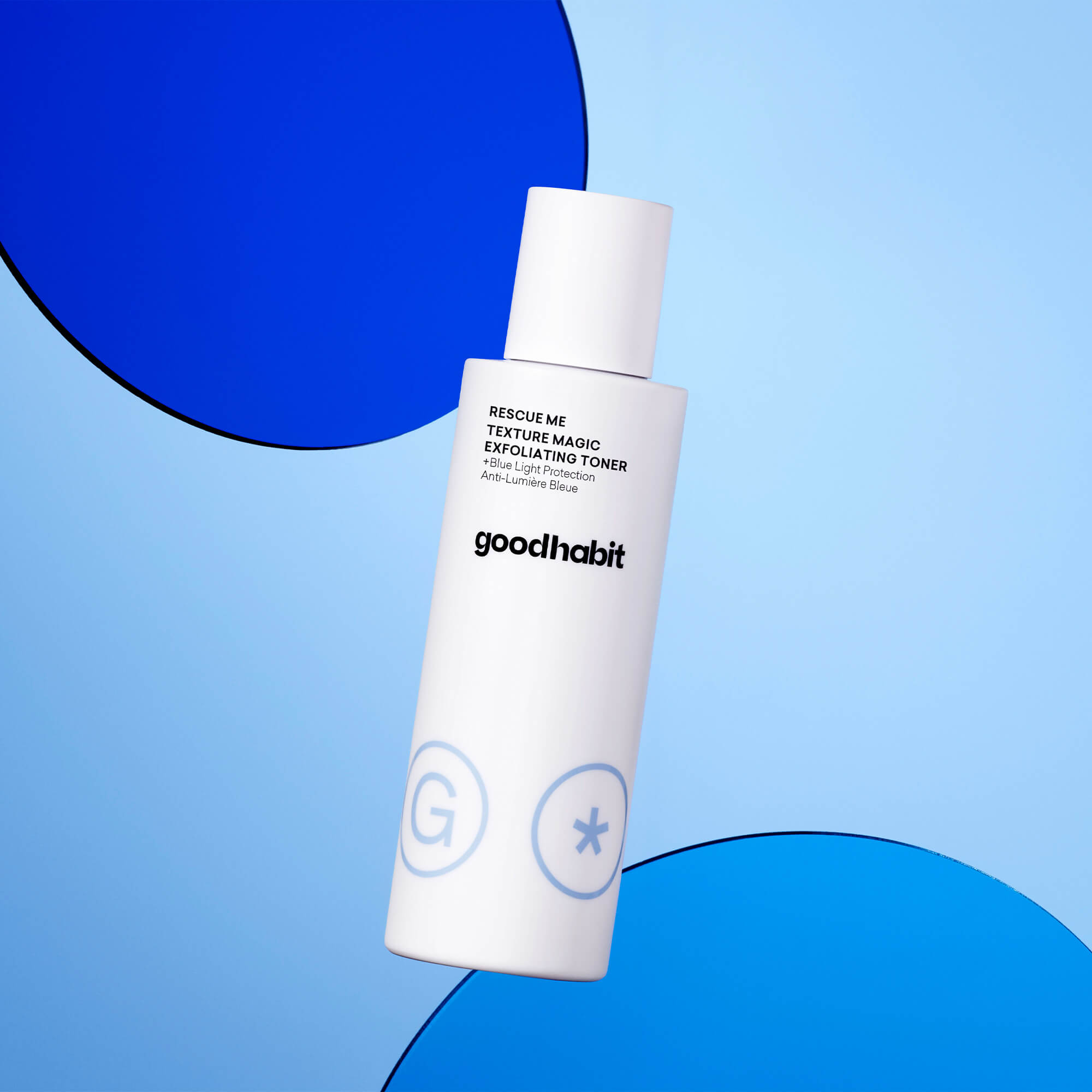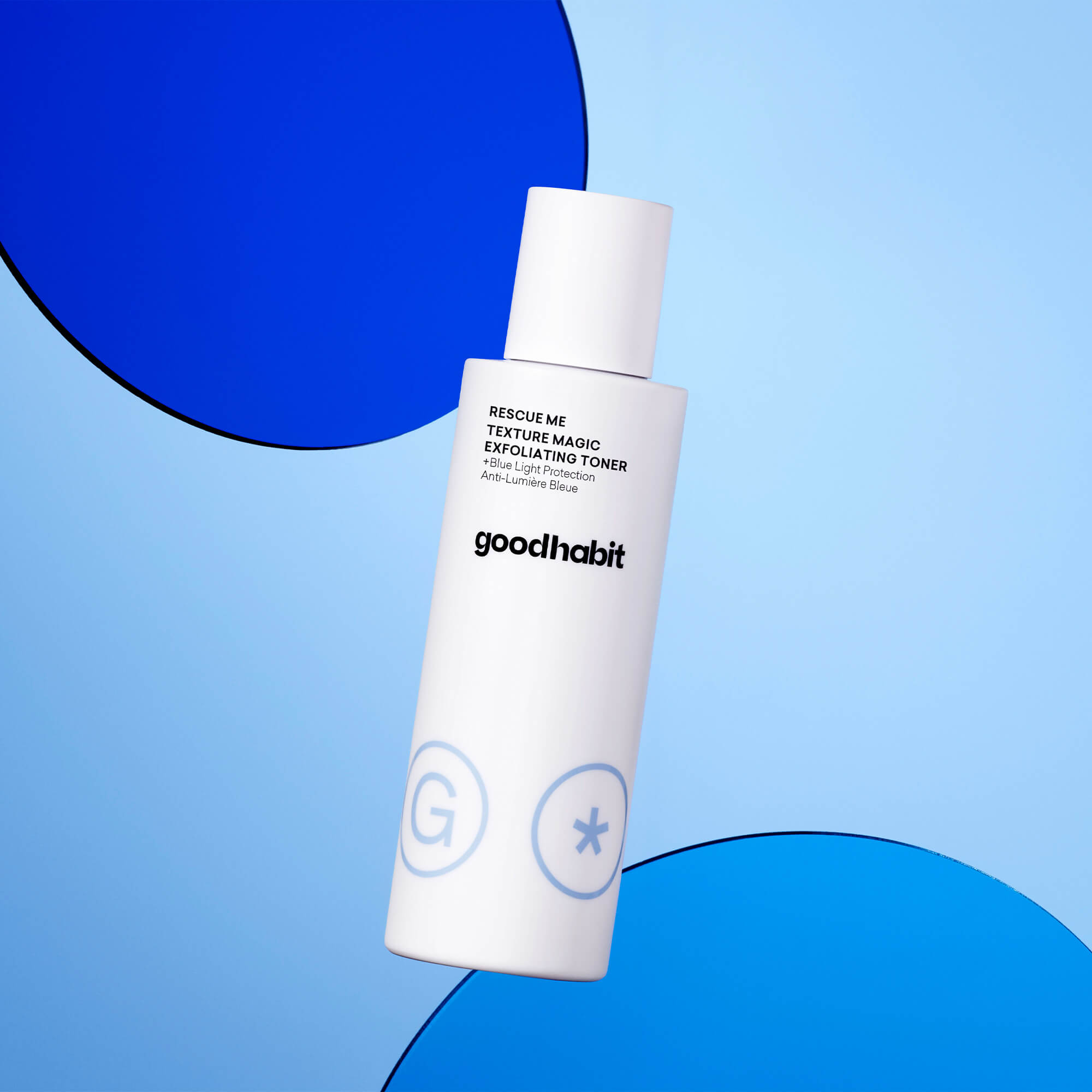 Texture Magic Exfoliating Toner
$31.20
Gentle exfoliation is a good habit, but revealing a brighter, more radiant complexion without irritating your skin is an even better one. Our Triple Acid Exfoliating Toner has been clinically proven to do just that...overnight!
Gentle exfoliation is a good habit, but revealing a brighter, more radiant complexion without irritating your skin is an even better one. Our Triple Acid Exfoliating Toner has been clinically proven to do just that...overnight!
This powerful (yet gentle!) exfoliator helps to curb excess oil production, minimize the appearance of pores, even out tone and texture, and visibly resurface skin to reveal a clearer, more luminous complexion, all while removing dead skin cells & surface build-up to enhance the performance of your other products.
The ideal pH of 3.7 ensures even the most sensitive skin types will love our potent lactic, phytic, citric, malic, and salicylic acid blend - no stress, no mess, no redness or sensitization. Niacinamide helps to soothe, hydrate, and balance skin, while our proprietary BLU 5 technology neutralizes and prevents the photoaging effects of artificial blue light.
97% of panelists agreed this product is gentle enough for everyday use

93% of panelists felt their skin looked brighter and more radiant overnight

93% of panelists saw an improvement in their skin's radiance overtime

93% of panelists saw a smoother, more refined complexion

90% of panelists agreed their skin looked & felt softer

93% of panelists agreed this product did not irritate their skin

87% of panelists saw a visibly younger looking complexion

100% of panelists agree this product did not cause breakouts
*Based on an independent consumer testing panel of 35 men & women
Shake well, then apply to skin twice a day using a cotton pad with gentle upward strokes. The slight tingling feeling means it's working its magic.
Active Ingredients
8% ACID BLEND

1. AHA: (LACTIC, MALIC, PHYTIC & CITRIC ACIDS): An exfoliating blend of acids that slough away dead cells and buildup on the surface of the skin. Increases cell turnover to give skin a brighter, smoother appearance, even out tone, and minimize the appearance of fine lines and pores

2. BHA: (SALICYLIC ACID): Exfoliates inside the pores to unclog dead skin cells, dirt, and excess oil. Help fight acne-causing bacteria to reduce breakouts, giving skin a smooth, visibly poreless texture

3. PHA: (GLUCONOLACTONE): Has a larger molecule size than all other acids, providing gentle, non-irritating exfoliation to dry, sensitive skin types. Attracts water molecules to hydrate skin, helping to fill in fine lines and promote a plumper appearance

NIACINAMIDE: Creates a more even tone, controls sebum production, reduces breakouts, and strengthens the skin's barrier

HYALURONIC ACID: Attracts and retains up to 1000x its weight in water and locks it into skin for intense, immediate hydration

BLUE SPIRULINA: Packed with antioxidants, vitamins, and amino acids to help improve skin tone, promote cell turnover, and reduce inflammation

BLUE TANSY FLOWER: Rich in chamazulene - a powerhouse compound known for its & anti-inflammatory properties. Blue Tansy has an unparalleled ability to bring peace to troubled complexions, while reducing redness and soothing inflammation

BLU5 TECHNOLOGY: Minimizes the effects of blue light damage while shielding skin against future exposure
Other Ingredients
Water/Aqua, Niacinamide, Propanediol, Lactic Acid, Citric Acid, Butylene Glycol, Gluconolactone, Ectoin, Fragrance/Parfum, Malic Acid, Phytic Acid, Acetyl Glycyl Beta-Alanine, Glycerin, Sodium Benzoate, Pentylene Glycol, Potassium Sorbate, Enantia Chlorantha Bark Extract, Tanacetum Vulgare Extract, Salicylic Acid, Sodium Chloride, Sodium Hyaluronate, Phenoxyethanol, Xanthan Gum, Linalool, Benzyl Salicylate, Calcium Gluconate, Hydrolyzed Rhodophyceae Extract, Glyceryl Caprylate, Chondrus Crispus Extract, Maltodextrin, Pseudoalteromonas Ferment Extract, Hydrolyzed Gardenia Florida Extract, Arthrospira Platensis Extract, Oleanolic Acid, Coumarin, Limonene, Benzyl Alcohol, Eugenol, Benzyl Benzoate
Ingredient obsessed? We feel you. Click here to read all the fine print about the ingredients in Texture Magic Exfoliating Toner.
Get this toner!
This toner is amazing!! I had a bit of texture on my skin and it helped smooth it out. Love this product and will be getting it again.
As good as my $100 + Toner
Love the tingling sensation I get when putting this product on. It's not a burning feeling, just a nice feeling like you feel the product actually working. Feel my skin has looked smoother with a more even complexion since using. I was using a $120 a bottle toner prior to this and daresay this works just as good if not better for my skin.
Unbelievable
Noticeable change in my skin, no irritation. This product actually WORKS!!!! Glad I stumble on to these products. Read the reviews, going to try some of the other products
Love to hear it ❤️ Thank you for trying us out!
Great Toner that I never knew I needed
I bought this toner just wanting to try it out as I really like their water jelly dew cream. I wasn't expecting much but as time went on I noticed my skin clearing up. I usually have acne on my skin during my menstrual cycle but this month I did not and I believe the toner helped tremendously. It does sting a little in the beginning but after a few uses it stopped. I purchased the mini size but will be getting the regular size bottle for daily use as part of my skincare routine.
Love to hear it, Alice! ❤️ So happy you're loving your skin after using the toner!
Removes Texture - NO JOKE
I am in the early '30s and generally have good skin, apart from my T-zone on every side of the nose. The skin around my T - zone used to be covered in weird small bumps that made it feel like sand. The worst part was seeing how my concealer would get collected between those bumps. Ugh... I tried a toner from Ordinary - nothing. I tried scrubs - they work very well on my cheeks and chin, but those relentless tiny bumps were still there.
I am so glad I switched to the goodhabit toner. It stings, it heals, it removed all the bumps in a few days. Because it has a TON of active ingredients, it doesn't taste great, so warn your honey not to kiss you when you have it on - lesson learned from personal experience.
I don't use a cotton round and apply a few drops in my hands and spread it onto my face and neck. It also helped me get rid of the weird bumps on my arms as well.
Thanks for your feedback, Katya! Happy to hear the toner has improved the texture of your skin and arms. We love to see you glow ;)